Tarazona y el Moncayo. Comarca de Aragon. Aragon. Spain.

Data from the county.
County Name
Municipalities
Surface
Km2
Population
Census 2002
Somontano del Moncayo
16
452,4
14.287
Total Aragón
730
47.719,20
1.217.514
Situado en el extremo oeste de la provincia, como una cuña que se adentra entre Soria y Navarra, el Somontano del Moncayo tienen su indiscutible capitalidad en la monumental ciudad de Tarazona.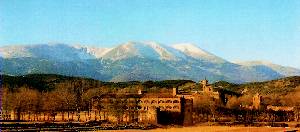 El Moncayo es un monte recio y bravío - con sus 2.315 metros de altura domina toda la comarca - en cuya cima se acumula la nieve buena parte del año. Sus laderas pobladas de una vegetación desordenada y bella, dan forma a frondosos bosques que invitan al paseo, y crean en este lugar el Parque Natural "Dehesa del Moncayo" con una extensión de 1.100 km2.
Las posibilidades montañeras y excursionistas son amplias pero igualmente apreciadas resultan las de paz, sosiego, clima sano, agua cristalina y naturaleza virgen que vino a encontrar el poeta Gustavo Adolfo Becquer en estos paisajes que tantas veces cantó con su lírica.
Los somontanos o "pie de monte" son una tierra más seca, abundante en excelentes vinos y tamizada por las feraces vegas de los ríos Queiles y Huecha, que nacen de las nevadas cumbres y se extienden hacia el Norte hasta fundirse con los regadíos del Ebro.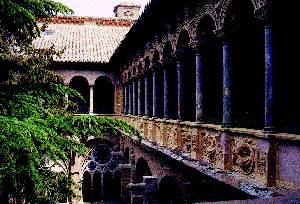 Entre los bellos pueblos de la zona destaca Vera de Moncayo con el conocido Monasterio de Veruela que situado a un kilómetro del pueblo, es el más espléndido, grandioso y bien conservado de los edificios del Cister en Aragón, y entre cuyas paredes se acogió al romántico Bécquer.
Esta zona incluye parte del área que abarca la Denominación de Origen de vino "Campo de Borja" cuya sede se ubica en Ainzón.
More information from county (comarca)
Ley creación de Comarca Tarazona y el Moncayo. County of Aragon. Ley 8/1996, district delimitation of Aragon. LEY 23/2001, de 26 de diciembre, Measures of regionalization. Ley 10/1993, of regionalization. Administrative Divisions in Aragon.

Parque Natura Dehesa del Moncayo.
Ruta de Zaragoza al Moncayo.


Aragon Road Map.
Zaragoza province.
Other maps of Aragon.


 

If you want to extend your information on Aragon you can begin crossing another interesting route is the Mudejar, Patrimony of the Humanity, also you can extend your cultural knowledge on Aragon examining its municipal and institutional heraldry without forgetting, of course, some of its emblematics figures as Saint George Pattern of Aragon also book of Aragon.

Also Aragon enjoys a diverse and varied Nature where passing by plants, animals or landscapes we can arrive at a fantastic bestiario that lives in its monuments.

The information will not be complete without a stroll by its three provinces: Zaragoza, Teruel and Huesca and his shines, with shutdown in some of its spectacular landscapes like Ordesa, the Moncayo or by opposition the Ebro.

Also you can dedicarte to the intangible ones: from the legend compilation that also does to universal Aragon you can persecute the presence of del Santo Grial in Aragon.



Huesca | Teruel | Zaragoza | Aragon | Maps |
Fauna | Flora | Geology | Fungi |
Tourism | Mudejar | Goya | Alphabetical Index | Thematic



Tarazona y el Moncayo. Comarca de Aragon. County boundaries, Region. Comarca, Situation, map, Administrative Divisions of Aragon, Measures of regionalization

Copyright 1996-2021 © All Rights Reserved Javier Mendivil Navarro, Aragon (Spain)

Explanations or to correct errors please press here

Legal Warning . This activity of the Asociacion Cultural Aragon Interactivo y Multimedia
All administration or public institution is made independently off.
As opposed to the threat of the hope of the water trasvase: CONGRATULATIONS.